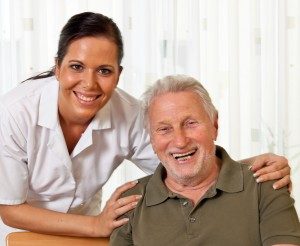 What is In-Home  Care?
Is your loved one recovering from illness with a chronic condition or in need of daily assistance?
In-Home  care helps seniors live independently for as long as possible, given the limits of their medical condition.
 It may involve helping the elderly with activities of daily living such as bathing, dressing and eating.
If you're in need of short term or long-term relief in the form of respite care arrangement for a loved-one or for yourself, we can help make your life easier.
In-Home Care Services
Often, patients realize that their illness restricts activities in their daily lives, making living alone too difficult. They want to improve their circumstances and stay in the comfort of home, but prefer not to become a burden to their family.
Many find hope with us. We have more than two decades of experience providing long-term, continuous care to chronically ill patients, providing home sitter and companion services to those in need and ensuring continuity of care within the familiar comfort and surroundings of home.
In-home care includes a wide range of services provided in the home, rather than in a hospital or care facility. It can allow a person with Alzheimer's or Dementia to stay in his or her own home.
We are here to provide you with the level of home care you need, as efficiently and cost-effectively as possible.
As a dependable home care provider for more than 9  years, our providers excel in providing non-medical services for adults, disabled and pediatric patients in the comfort of their homes.
 Our home care services are about more than just providing care to our clients need. We'll work to get you, or your loved one, back to doing the things you love. It's time to celebrate aging. Contact us at (808) 988-4888